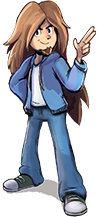 Hey guys, long time no update on my part. My bad!
I've got some news for you all - I sadly will probably be seen a little less these days, as I am now looking to get a full time job - and I will most likely be busy working there than on tSR. Sadly, tSR is not a full time job that I can live on.
Enjoy the update, and feel free to anticipate our future moves... A warning though, it may take a longer amount of time than originally assumed. Many apologies.
Apple II Sheets: 2
Arcade Sheets: 9
Custom / Edited Sheets: 1
DS / DSi Sheets: 20
Game Boy / GBC Sheets: 5
Game Boy Advance Sheets: 8
GameCube Sheets: 1
Genesis / 32X / SCD Sheets: 2
MSX / MSX2 Sheets: 1
NES Sheets: 3
Nintendo 64 Sheets: 9
PC / Computer Sheets: 1
PlayStation Sheets: 12
SNES Sheets: 3