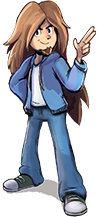 What a scary update! What's this... Don't turn around, there's something behind you! In the darkness!
Oh no, I'm sorry, I could not see, my spectacles must be wet from all this rain we've got here in London. Gosh, this game on pretty sudden! It's like a shower for the caterpillars. Good! They need it! Playing in the dirt all day!
Perhaps they'll have a party in the rain with the worms - form a union! Yes! That's a good idea, I shall suggest it to them! We could all join in, have a great union for us and all crawly creatures! I'll bring the butter!
Arcade Sheets: 1
Custom / Edited Sheets: 9
DS / DSi Sheets: 3
Game Boy Advance Sheets: 7
Game Gear Sheets: 1
Neo Geo / NGCD Sheets: 1
NES Sheets: 5
PC / Computer Sheets: 13
PlayStation Sheets: 2
SNES Sheets: 11