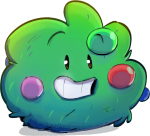 Whatever holiday you celebrate, whether it's Christmas, Hanukkah, Kwanzaa, or anything else I haven't mentioned, let it be a merry one. Spend some time with your family or loved ones if you aren't already doing so.
Anyway, here's some gifts from myself in the form of sprite submissions. It's not the 100 I was aiming for at the beginning of the month, but it's a pretty hefty amount.
My regular updates will resume when the new year starts.
(Now, where's the eggnog?)