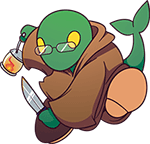 Wow, guys. You blew me away again this week. Over 150 sheets, most of them before Wednesday. Holy crap. But more importantly, this update marks the first time I've overtaken Dazz as the top uploader to the site. MWAHAHAHAHA!
Loads of great stuff for you today including more Pokemon Ranger 3, which I'm sure you're all foaming at the mouth for.
The Ripping Project 2 has started. I'm sure you can guess the theme based on some of the new submissions; it's superhero games for SNES and Genesis. If you have any favorites we might be forgetting please swing by and give us a hand. We need it!
We've made some great progress in the SSB project this week too. A Meta-Knight base and Solink's animations of our first newcomer. Check the forums to see who!
Great work yet again, everyone. I'll see you all next week!