Uh... Might have gone a little overboard.

(17)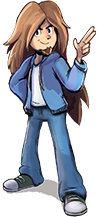 Hey everyone, and welcome to what might be the most ridiculous update we've ever made to the site...
You know, I think back to just 4 or 5 years ago when we used to upload maybe 30-40 sheets a week. A 100 sheet update? Wow, that was an achievement. So this update here? Ludicrous. Yes, most of these sheets were ripped from a single game but that's sort of besides the point. Even back then that would be a massive feat in itself.
This update demonstrates what's possible with teamwork, dedication and patience. It's real mixture of contents, we've got a huge host of stuff to sink your teeth into - Nuga-Cel, Princess Maker, Final Fantasy, Star Ocean, updated sheets for Mario Maker, some rare Sonic Arcade game rips... It's really a big mix. Everyone involved in this update should feel proud, you're going down in tSR history with the biggest update to date and likely for some time to come... It's truly insane.
Goodbye everyone, and please enjoy!