Birthday Blues

(17)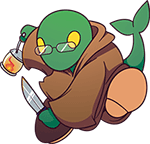 Hi everyone!
Yesterday was my 37th birthday, and I spent most of it making "Clerks" references.
(37? In a row?!)
It's crazy that I've now been working on TSR for about half of my life. Wow! Thanks to all of you for making it a wild ride and giving me some awesome stuff to look forward to every week.
Today's update includes, as usual, some really awesome work.
Alxala
submitted all kinds of title screens and intros we'd probably never see here otherwise,
kanji_talk
has some Game Boy goodness,
Devy
does a deep dive into some Genesis hacks,
Sinaria5080
brings loads of Love Nikki,
Kanbei
is ripping Switch games through some kind of wizardry,
MistPrism
found one weird fighting game,
Yawackhary
is backhary with new SNES racing game assets (and a particular detective),
TeridaxXD001
has a WHOLE MESS of Wii U graphics, and some guy you might have heard of (
Tonberry2k
) is playing Shining Force again.
On the Custom side of things,
RaguRando
,
Jon Gandee
, and even our own
MisterMike
have great stuff in addition to all the customs and rips I didn't list here. Please check them all out!
And try not to rip any sprites on the way through the parking lot!
3DS Sheets: 3
Arcade Sheets: 19
Browser Games Sheets: 8
Custom / Edited Sheets: 25
DS / DSi Sheets: 14
Game Boy / GBC Sheets: 21
Game Boy Advance Sheets: 7
Game Gear Sheets: 1
GameCube Sheets: 1
Genesis / 32X / SCD Sheets: 56
Mobile Sheets: 89
NEC PC-9801 Sheets: 1
Neo Geo / NGCD Sheets: 3
NES Sheets: 11
Nintendo Switch Sheets: 12
PC / Computer Sheets: 105
PlayStation Sheets: 1
PlayStation 4 Sheets: 1
PSP Sheets: 4
SNES Sheets: 40
V.Smile Sheets: 1
Wii Sheets: 38
Wii U Sheets: 187
ZX Spectrum Sheets: 1