Vay-Cay

(1)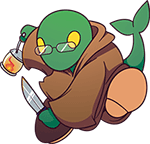 Vacation, all I ever wanted
Vacation, had to get away!
Hey everyone! I hope your summer is going well! It's hot out there! It reminds me of that old Sears air conditioner commercial where the couple bicker about calling Sears for AC installation. My little brother can recite that from memory because it was on so much when we were young. But anyway...
I haven't been around in a few weeks because I was on vacation! It was great! I got to see Paris, London, and Dublin, and caught up with our buddy Dazz. It was an awesome time and I'm already ready to do it again.
Do you have any vacation plans this summer? You know, aside from checking out all the awesome sprites below?
Enjoy, and see you all next time!