Sit's Supdate Saturday :p

(6)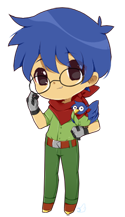 What's up, everyone? It's your buddy Kosheh. That's right. I'm back. And ready to tell you all about those spritesheets on your favorite large sprite sheet archival web site.
This update
really
borders on the bizarre. From Tomodachi Life's food selection to Hotel Mario's titular character, bootleg Metal Slug sprites [from
Terrifying 9/11
] to look-alike Bowmasters, the cutest JoJos you've ever seen and a...snowboarding Papa Smurf? Yeah yep, this is the goofiest update I've seen yet and I absolutely love it.
Yeah you know what? Let's have a little fun this update: In the replies, what's the weirdest thing from this update
that you can make Papa Smurf jump over?
Get creative, but keep it clean! (Don't make him jump over himself that's lame) (also shoutouts to RadSpyro)
You can post it as an image - see the "Code References" button next to the "Submit" button. It's up to you guys to find a place to host your incredibly weird images of Papa Smurf jumping over Riamu Yumemi or whatever though