Happy Mario Maker 2 Weekend!

(1)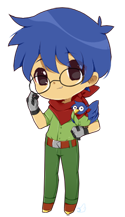 Alright so it's not a national holiday but it's still worth celebrating OK
It's a pretty good game as like this website, it too fosters creativity and thinkin' with your big person brain (and movin with your fingers of various sizes)
That said,
somehow
we've already got the sprites from it ripped. Dang dudes, nice work. Other notable submissions this update include maps from the 1997 Spaceworld Pokemon Gold/Silver demo, and...a lot of Switch stuff, dang. Several more Cadence of Hyrule rips, Mega Man X customs, and more submissions from SD Gundam G Generation Genesis.
Alright so cool I'll see you guys soon keep on usin' your big person brains to solve puzzles whether it's in Mario Maker or Samurai Shodown or a Zelda game or just trying to fit all the dishes in the dishwasher. I believe in you!!