Mayday! Mayday!

(6)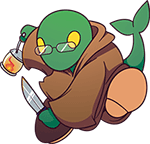 Ok, so it's not May 1 yet, but it will be soon, and we don't update on Wednesdays, so you're getting it now.
Hey, why do pilots yell "Mayday!" when a plane goes down? I wonder where that came from. Also what IS May Day? It's on every calendar, but I have no idea what it means. Is there a March Day? September Day?
Remember on Cheers, Sam the bartender's nickname was Mayday Malone?
Do you all not remember Cheers? Am I that old now?
What were we talking about?
This week, we have all kinds of great stuff from the Genesis Sonic games (Awesome job, Observer!), Final Fantasy Brave Exvius (Good work, Volo!), FE Heroes (Woo, Falconpunch!), Willow (Yay Kojiro!), and many many others from regular submitters like Teridax and AFruitADay and Mr. C. You're all awesome!
On no! It's too many pixels! I'm drowning in sprites! Mayday! Maydaaaaa--