This update will spin you right round

(2)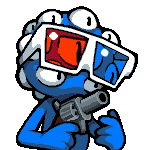 Hey folks! Today we have an update with the nice round number of 180. I in particular am quite happy about this considering how much I love trigonometry, although I'm probably the only one :P
As for its contents, we've got a nice variety as usual. DMZapp is keeping at it with awesome
Paper Mario Customs
, and we've got some interesting
Quartet
rips by shadowman44.
Some of my favourite stuff here is the
Metal Slug Attack
rips; even on mobile, the sprites never cease to impress me. I don't think I'm alone either, all 4 submissions are by different people!
Also interesting that we're still seeing classics like
Sonic The Hedgehog 1, 2, and 3
getting new rips, so props to The Observer on those ones.
Finally, it looks like we have some sprites from
Super Smash Bros. Ultimate
ripped too! Of course the one to thank for these is RandomTalkingBush, although we have some contribution by LukeWarnut too.
As always, there's far too much to mention so be sure to take a look around the update yourself, you never know what you might find. Have a good week!