Wilson & Rocky: Green Guy's Revenge

(4)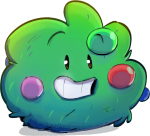 Howdy everyone, it's the green fellow you almost never see here again, bringing you this week's update!
Yet another haul of submissions for your viewing pleasure, including but certainly not limited to dozens of spiffy custom sheets from our community,
Alxala
,
Wiw
and
Yawackhary
showing multiple ways to tell you your Game Boy needs an upgrade,
eldomtom2
delivering another shipment of Chris Sawyer's Locomotion submissions, the
Biggest_Chungus
with another bunch of NEET (pronounced as "neat") Osomatsu submissions, and in this episode
Garamonde
teaches us how
not
to starve with dozens of Don't Starve (Together) rips, and much, much more!
And on top of that, we've got practically everything from Pocky & Rocky Reshrined now, as well as a bunch of rips from Touhou Gouyoku Ibun and Teenage Mutant Ninja Turtles: Shredder's Revenge from...
Random Talking Bush
? Who the heck is that guy? Either way, looks like
TVGE2
also lent a helping hand there by ripping half of TMNT's cutscenes.
Until next time!