Leap Update

(2)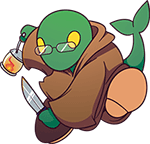 Legends say that once every four years, TSR gets an extra update. Nobody knows if that is true, but... we have one here, anyway.
This week we have loads of Syvalion rips from our esteemed Magma MK-II, Dynasty Warriors Advance (which I didn't even know existed!) by Zebuta, Dragon Ball by loriscangini, Arcana Heart by Vanilluxe92, and Dragonropa by Cay making up a huge chunk of the submissions.
Tailikku, shadowman44, MonoJelly, danikk04, and a bunch of others also got in on the action with some wonderful updates to existing sheets and brand-new submissions.
And of course, on the Custom side of things, Tygerbug gave us some Duck Tales (Woo-oo!) sheets, DMZapp has reached Mario Bros 2, Marshadowslime conquers some Robot Masters, and Askywalker pulls off an incredible Frisk from Undertale sheet.
And of course, there are dozens of people I haven't named who did incredible work too. Have a look at everything, enjoy, and I'll see you all again soon!
Arcade Sheets: 26
ColecoVision Sheets: 1
Custom / Edited Sheets: 23
DS / DSi Sheets: 1
Game Boy / GBC Sheets: 2
Game Boy Advance Sheets: 9
Genesis / 32X / SCD Sheets: 6
Master System Sheets: 5
Mobile Sheets: 27
NES Sheets: 1
Nintendo Switch Sheets: 1
PC / Computer Sheets: 89
PlayStation Sheets: 3
PlayStation 2 Sheets: 28
SG-1000 Sheets: 2
SNES Sheets: 3
TurboGrafx-16 Sheets: 3
Wii Sheets: 5