An update you'll be sure to love!

(0)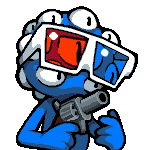 Whether you spent this Valentine's day watching the Sonic movie with a significant other, or just had a good time on your own, here's a lovely assortment of sprites to accompany it!
The hard-hitters this week seem to start off with some nice
Dynasty Warriors Advance
sheets ripped by
Zebuta
, helping the GBA section be one of the chunkier ones this week.
Random Talking Bush
is as always coming in with some cutting-edge submissions, giving us some sweet sprites from the new
Pokémon Home
. We also have some more great
Shovel Knight
sheets by
MonoJelly
; it's always surprising how much content is still coming in from that game!
Be sure to check out all the other odds and ends lurking around in the update too of course, and have a fabulous February!