Gotta catch 'em allpdate

(1)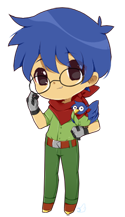 Hey guys - Kosheh here with a new TSR update, with content spanning far and wide from our masterful contributors! I'm currently knee deep in
fighting trainer battles back to back
catching new Pokemon in the Galar region so I'm gonna try to keep this update short and sweet!
Starting off this update is literally a pack of Neanderthals, followed by a mob of cartoon ponies. Following that are several preview images of Pokemon from far across the Pokemon universe, followed by cool event stuff from the Sonic Forces and King of Fighters mobile games. Rounding off the update are some dubious Power Rangers, Angry Birds screencaps and...Pokemon mini rips? Wow, you guys really are leaving no stone unturned in this massive collection of rips o_o;
So yeah - that's it! I didn't have much time to think of a goofy comment-contest, so I'm skipping it this week in favor of becoming the Galar League champion. See you guys soon, and don't let anyone tell you you don't have any appealing assets - you're ripping new ones every day!!