Summer has Arrived!

(5)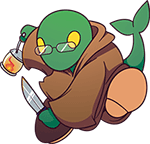 ...So why am I still wearing a sweatshirt at night? This weather is crazy.
Anyway, we have a HUGE update for you today! You can tell school is out, because our submitters are getting way more active! My first shout-out today goes to Rasgar, who uploaded all kinds of Mobile game sprites that make up the bulk of this update. Awesome job!
Secondly, this is the most Custom sprites I've seen submitted in one week in a long time. You guys always knock it out of the park here, but these are really special this week. We've got everything from Mario to Sonic to Kirby to Undertale to JoJo. Really an amazing week. Awesome job, you guys.
It's also nice to see surprise updates that fill in the gaps, and we got plenty of those this week, too.
So grab your computer, a cool drink, your sunglasses, and a sweater, and go outside and enjoy the unseasonable coolness while you check all this stuff out.
See you next time, Pixel Posse!