Start 2019 with some pixel goodness.

(5)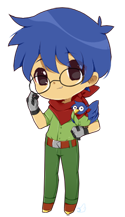 Let's ignore the fact that over half of these updates are from mobile games, so there technically isn't a lot of pixelart this update
Here's another update full of content to start off the new year. There's a lot of custom stuff (I'm seeing a lot of Sonic) and I think I saw a little Pingu, too.
Nice job guys!! Keep up the good work!! Pulverize that submission forum with pixels and slap the page silly with sprites!!
Arcade Sheets: 3
Custom / Edited Sheets: 69
DS / DSi Sheets: 1
Game Boy / GBC Sheets: 12
Game Boy Advance Sheets: 10
GameCube Sheets: 3
Genesis / 32X / SCD Sheets: 5
Master System Sheets: 2
Mobile Sheets: 122
NES Sheets: 7
Nintendo 64 Sheets: 2
PC / Computer Sheets: 58
PlayStation Sheets: 15
PlayStation 2 Sheets: 1
PSP Sheets: 1
Sharp X1 Sheets: 1
Wii Sheets: 3
Xbox Sheets: 1