Snowy or Sunny?

(0)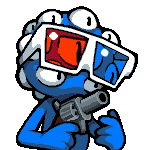 Hey everyone! Hope you're all getting ready for the holidays. Some of you might be getting cosy by the fire, while others (like me) are enjoying the summer sun. Sounds good all around though!
Getting to the submissions this week, the prominent ones seem to be
Azur Lane
,
Marvel: Battle Lines
, and

THE iDOLM@STER: Cinderella Girls
. Of course we can't not have iDOLM@STER submissions :P
Among these we have your usual scattering of this and that. A healthy dose of arcade goodness, some Steven Universe stuff from the lovely Mighty Jetters herself, and even a few DS and GBA sheets! It's great to see new submissions from them, even today :)
That's all from me this time around. Good luck with your Christmas shopping and have a great holiday season!