The Holiday Season is on!

(4)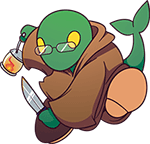 Hiya there, sprite fans!
I can't believe we're nearing the end of the year! They just keep flying by! I'm sure we'll have plenty of great rips to look forward to closer to Christmas *coughSmashcough* but for the present, let's admire what we have this week!
Avenging Spirit and Zelda leap up at me right away. These have gotten some comprehensive rips in the last couple updates, so please take the time to admire them! Deltarune and Overwatch are dominating the PC section, and there seems to be a smattering of Dragonball everywhere you look!
As usual, I want to give special attention to the custom work this week. We have a great mix! Ittan-Momen's Marx is a real standout. I think this is two weeks in a row we've gotten a custom Marx sheet. Interesting.
There's also Retro64's DK: King of Swing sprites, which made me do a double take, and of course DMZapp's Paper Mario work. Peardian and Watercat and Mr. Mike also make a great showing. Awesome work, everyone!
I'll see you all in December!