Fall's Down

(6)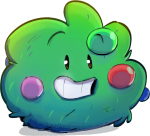 Yep, it's me again. Apparently the Earth didn't get the memo that it's supposed to be *Fall* this month, as it's currently snowing out! Again!
Today's update brings you some more of DMZapp's Paper Mario-themed customs, Marvel super heroes, Deltarune, Count Duckula (man that's a name I haven't heard in forever) and lots and lots of tank girls (because that's a thing apparently). And Idolm@ster, which is doing a good job keeping its attendance ratio going, heh. And many more, as is the norm.
And with that, I gotta go shovel snow, seeya next Saturday!