Who likes new sprites? Dis-guy-a right here.

(13)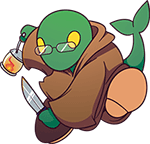 Get it?
Cause sprites, but also because a lot of them are Disgaea.
Oh never mind.
Another week, another update! And as you may have realized, our own Random Talking Bush went to town on the Disgaea series. It's truly, impressive, so have a look!
We also have all kinds of great custom work, and rips from the Arcade, Game Boy Advance, PC, and--hey, is that Dynamite Headdy? Neat.
Everyone enjoy! Dis-guy-a's gonna make some lunch.