I told you about updates bro

(4)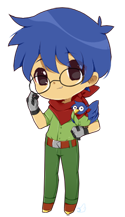 Hey! Another weekend, another update. What's new? I'll tell you what's new. A bunch of spritesheets, that's what.
This update has a pretty hefty amount of mobile stuff - some Dungeon Girls stuff, some Idolm@ster stuff. There's also a good amount of retro things to be had as well - including some custom Donkey Kong Country-styled edits, some Dragon Quest and even some stuff from Joy Mech Fight. There's...even Homestuck stuff in this update too. Nice.
Anyway, enjoy and once again use this opportunity to revel in some new pixel goodness as always.