An Updater Approaches

(11)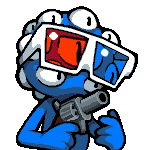 Hey everyone! Some of you may know me from the forums or Discord channel, but in case you don't, I'm puggsoy! I'm a somewhat retired ripper, although I keep meaning to dabble in it again, and I've been a member of staff for a while. Now I'm here to help with updates :)
So, what do we have this week? Well lemme tell ya, this Card Sagas Wars stuff is really blowing me away. Not only is the spritework amazing but the roster of characters is just staggering. They've got classic favourites we all know like Link, Cloud, and Megaman X as playable characters. However the assist characters range from familiar faces such as King Dedede, Crash Bandicoot and Princess Peach, all the way to more obscure characters including Viewtiful Joe and Earthworm Jim. I was personally surprised to see Sir Daniel Fortesque from MediEvil and Tomba too! I'll stop yammering on about it, but you should definitely go check it out for yourself.
That's not all. We have some more snappy looking Paper Mario customs, and it's nice to see the Game Boy / GBC section getting some love. As always we have a steady stream of iDOLM@STER submissions (some of which I made a program to help rip!), and Valkyrie Profile: Lenneth is giving us some really high-quality stuff. I'm even seeing some Fez in there, which is pretty great to see finally being ripped!
Of course there's even more. Although I can't mention everything in an update, the fact that there's so much different stuff is part of what makes this website so great and I encourage you to check it all out.
Well, that's me for now and I'll see you again in future updates. Have a great day!