Livin' on a... Prune?

(10)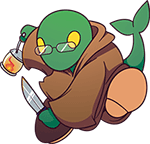 I'm Bon Jovi-ing RTB's update title from last week. Please tell me in the comments how awesome my new song idea is.
This week, our two biggest groups are probably Yooka Laylee and the GBA Animal Crossing minigame. These both have great designs, so check them out! Those Animals are so cute!
Aside from that, DMZapp continues his excellent Paper Mario work, Mister Man shows us some impressive Dragon Ball sprites from the GBA that look like they were converted from models, so that's interesting. Ephylon brings the Fire Emblem summer special characters, which are more, um... fanservice-y than the regular characters. Yowza, Noire.
NES, Playstation, and SNES also had a strong showing this week, which also makes me happy.
Speaking of SNES, I've started a forum project to celebrate the announcement of the new Smash Bros game. We'll be cleaning up and adding to any sections featuring the 12 fighters from the first game. How you interpret that is up to you, but I'd love to see your support!
Another tangent; Speaking of fighting games, I hear rumblings of an old fan project that may be making its way to the internet very soon. Maybe we'll see some sheets from that in the next week. We'll see.
See you all next week!
"Take my hand. We'll make it, I swoon. Ooo-ooh, livin' on a pruuuuuune... (livin' on a pruuuuuuneeeee!)"