It'd be so empty without these.

(6)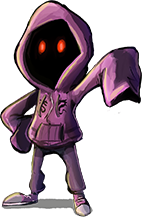 Hi kids and tykes, do you like images and sprites?
Do you want to see an update that makes each one of your friggin nights?
Do you want to click icons, see stuff, and browse some video games?
Do you want to blast off again like Jessie and Meowth and James?
Well you can, there's Pokemon rips and it doesn't get much better
More rips have been added found by the click of a letter
"So there's good stuff here, Shade? That's what you says??"
You better believe it chum, FF5, DBZ, and FEZ
Dobutsu no Mori, that's Animal Crossing, hey
Fullmetal Alchemist, oh what a Promised Day
Some customs of course, Mega Man, Summer Saliens, Captain Rainbow,
THE iDOLM@STER: Cinderella Girls, you know how it is yo
PEACE UNTIL NEXT WEEK'S
STAY CHILL