I Choose You, Egg With a Hat!

(10)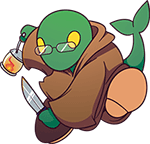 By now I'm sure you've all heard the big news; the prerelease ROM for Pokemon Gold from 1997 has made its way to the internet, as as a result, we get a peek at all kinds of stuff that was nowhere near ready for public eyes. It's really neat, though some of the Pokemon designs definitely aren't so good. Like Ponyta's baby form, Smaller Ponyta.
I definitely recommend checking those out!
Aside from that, we have a huge amount of really great custom sprites, including Spacepig22's Donkey Kong, and DMZapp's continued Paper Mario customs. Some Mega Man 11 customs have already been made, thanks to MisterMike.
From there, we also have some neat Gundam stuff, the ongoing Master System ripping project, and more Titanic rips! If there is ever a Titanic trivia night at the local bar, I have that contest on lock from accepting all of these.
Enjoy all the cool stuff and we'll see you again soon!