April Snows Bring May Snow

(5)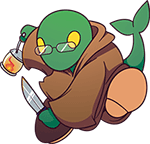 Welcome back to our eternal winter! Can you believe how cold it still is outside? I can't wait for it to warm up so I can complain about the heat instead of the cold.
As usual, we have a bunch of really fantastic sprites for you this week! A few surprises stand out including Bucky O'Hare for the Arcade, Castlevania Judgement for Wii, and Mario is Missing for NES. We even got some great Custom work! All-in-all, it's another successful week of sprites.
We'll see you all next week for another pixelly roundup!