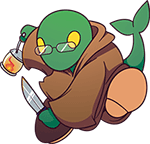 Happy summer, everyone!
Hopefully you haven't all melted away to nothingness yet, because it's only gonna get hotter!
While you're inside staying cool, we have some brand new sprites for you to check out.
TeridaxXD001
returns with loads of banner and menu sprites.
Zenksren
has a boatload of fighting game fun,
Yawackhary
is digging deep into the past with Commodore 64 and ZX Spectrum sprites,
yamalpaca
has some more Princess Peach,
Jon Gandee
has an invite for Bugs Bunny's birthday party,
Alxala
continues what I think is a really neat and underappreciated project, ripping Super Game Boy borders and rarely seen GBC error screens.
darkbolt99
has some great Onimusha sprites that I would have sworn were Final Fantasy Tactics,
raidlandguy
has updated a lot of Sonic Advance sheets,
Lord Louie
is tackling NES hidden gem, Shatterhand,
Redtarp
ventures being Dead by Daylight,
ShatteredReality
has a whole lotta Evil Tonight,
true
has been busy with Star Ocean,
Barack Obama
is doing amazing work with Link to the Past,
ppbit
is also ripping some big fighting game sheets, and
blueberrymuffin
is killing it with more Wii sheets.
For Customs this week, we have great work from
MarshadowSlime
,
43rjk
,
Jon Gandee
(again),
TheCrushedJoyconTSR
, and
Izzi Rae
among others. Please take a look!
See you all next time and stay cool out there!
3DS Sheets: 8
Arcade Sheets: 9
Commodore 16 Sheets: 1
Commodore 64 Sheets: 2
Custom / Edited Sheets: 21
DS / DSi Sheets: 4
Game Boy / GBC Sheets: 54 (50 shown)
Game Boy Advance Sheets: 23
Genesis / 32X / SCD Sheets: 2
Mobile Sheets: 13
MSX / MSX2 Sheets: 9
NES Sheets: 13
Nintendo Switch Sheets: 1
PC / Computer Sheets: 300 (50 shown, 1 hidden)
PlayStation Sheets: 2
PSP Sheets: 49
Saturn Sheets: 1
SNES Sheets: 8
Wii Sheets: 30
Xbox Sheets: 14
ZX Spectrum Sheets: 15