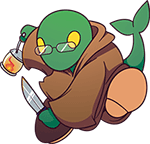 Hi everyone!
I hope your weekends are going well! We're here to help that happen!
We have, as usual, an awesome assortment of sprites for you to check out. First off, Random Talking Bush has been knocking it out of the park with the Mario Oddessy?--Oddissey?--Oddyssy?--Yddyssy?--New Mario Game rips. Check out the Models Resource as well and give him a big hand for his work there.
We also have all kinds of Sonic sprites this week. It's just a coincidence, but the Blue Blur is here in full force. The Amstrad rippers are giving a nice show as well with an assortment of rips. PC and Mobile got a nice boost, as usual, and even the oft-forgotten Gameboy Advance has a few new sprites.
I also want to give special mention to all the Custom work you guys submitted this week. We usually get a couple, but this time it was way more than usual. Nice job!
So enjoy the sprites, and I'll see you all again soon! Happy spriting!