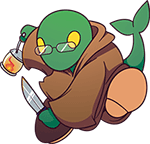 I can't believe we're going into the final month of 2023. Where has the time gone?
Anyway, we have some new amazing stuff from many incredible people this week. Starting off,
Fern Leaves
makes their TSR debut with some Adventure Time rips,
bdeggers
raids the Cookie Factory,
Alxala
has a bunch of new title screen rips,
FrenchOrange
is refining more Pokemon rips,
Logos-everywhere
brings us some... well, I don't want to ruin the surprise,
TheAwesomeBlue
has some fun Club Penguin assets,
Keenfan1990
has some elusive MSX rips,
HylianFox
is ripping the often-overlooked NES game; Dragon Spirit,
Worldblender
is working on some all-new Switch rips of several varieties,
splashmob
submits some Touhou stuff,
nyancities
has a lot of very nice things from a game I've never heard of; Alicia Online.
teh_supar_hackr
submitted what seems to be a now-weekly dose of Isaac,
blueberrymuffin
continues to impress with a bunch of everything,
Aecheritt
did some more work in the visual novel genre,
true
has some very cool Valkyrie Profile sprites,
Magma MK-II
,
16-Bit Globe
, and
Perdition's Gate Enjoyer
help keep the SNES section alive, and we even got some Virtual Boy stuff from
hewkii
and
Yodakiller3000
! Amazing work, everyone!
For Customs,
hansungkee
has made some really incredible Toy Story customs,
Spriter Theo
has some neat-looking sprites of a guy from a thing I've never heard of cause I'm old,
paveldechev0604
has completed the set with a Paper Luigi sheet, and a surprising Heavy sheet from Knuckles Chaotix.
CancerEdition
continues to impress with new Amy Rose and Ray sheets,
EnricoCartmanuel
has a very cool Sonic tileset, and
saidFayad5
brings us some fun Wario emotes.
Amazing work, all, and we'll see you in the next one!
Arcade Sheets: 1
Browser Games Sheets: 30
Commodore 64 Sheets: 1
Custom / Edited Sheets: 15
DS / DSi Sheets: 1
Game Boy / GBC Sheets: 11
Game Boy Advance Sheets: 3
GameCube Sheets: 4
Mobile Sheets: 36
MSX / MSX2 Sheets: 7
NES Sheets: 4
Nintendo Switch Sheets: 85 (50 shown)
PC / Computer Sheets: 136 (50 shown, 2 hidden)
PlayStation Sheets: 3
PlayStation 2 Sheets: 1
PlayStation 3 Sheets: 1
PSP Sheets: 2
SNES Sheets: 14
TurboGrafx-16 Sheets: 1
V.Smile Sheets: 4
Virtual Boy Sheets: 2
Wii Sheets: 2
Xbox 360 Sheets: 2