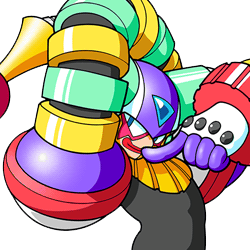 This has been an interesting week for sprites.
We have 3ds themes and Touhou Mystia's Ikazaya courtesy of
morrigan
, while
MistPrism
ripped from Blood Storm, Bubbles, and the Fergus easter eggs from various Mortal Kombat & Primal Rage home ports. We have a couple more Fantasy Zone II sheets from
playgames169vg
and Sonic XS from
Dierreka
.
TeridaxXD001
submitted Dreamcast icons and
Ragengow
submitted a GBA Yu-Gi-Oh game.
Tonberry2k
ripped a lot of stuff from Shining Force while
Paraemon
ripped more stage maps from Sonic & Knuckles.
DarkWolf
submitted/fixed sheets of theirs from Sword of Vermillion while
Biggest_Chungus
submitted more Osomatsu-san Hesokuri Wars: Battle of the NEETs sheets.
Patchworks
ripped more Metal Slug Attack sprites while
HylianFox
ripped Star Tropics II.
VTuber_GUY
ripped more Dawn of the Breakers stuff and
RatherNoiceSprites
ripped Mario's Early Years and Mario's Time Machine.
Yoshimallow
ripped the hit effects from Tekken 1-3 while
Thriftybits
ripped Fate/EXTELLA LINK.
Yawackhary
ripped the stages from World Heroes 1 and 2 while
AxeW1eld3r
ripped Mega Man 9 and 10. We also received a lot of customs from
RaguRando
,
MarioFan2324
,
Leo Plays YT
,
RatherNoiceSprites
,
Spriter Theo
,
Dolphman
,
Techokami
and
Alex17
Don't forget Mother's Day is on May 8th.
3DS Sheets: 8
Arcade Sheets: 6
Browser Games Sheets: 6
Custom / Edited Sheets: 16
Dreamcast Sheets: 3
DS / DSi Sheets: 8
Game Boy / GBC Sheets: 11
Game Boy Advance Sheets: 7
Genesis / 32X / SCD Sheets: 37
Master System Sheets: 1
Mobile Sheets: 16
Neo Geo / NGCD Sheets: 2
NES Sheets: 13
Nintendo 64 Sheets: 1
Nintendo Switch Sheets: 2
PC / Computer Sheets: 47 (1 hidden)
PlayStation Sheets: 3
PlayStation 3 Sheets: 11
PlayStation 4 Sheets: 34
PlayStation Vita Sheets: 1
PSP Sheets: 1
Sharp X1 Sheets: 1
SNES Sheets: 16
Wii Sheets: 30
Wii U Sheets: 2