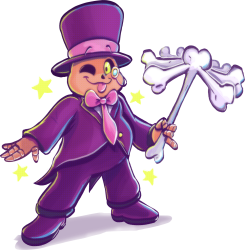 So we're clearly running out of ideas for titles, yea? Don't worry, your friendly neighborhood revenant is here to help with a non-mishmash update title. Now, why is "monsters" in the name? I'll tell you!
Making up a MASSIVE storm of customs this week is Pokémon, alongside some Idle Monsters: Tower Defense, and last but not least, a monster in the form of a werepig from Don't Starve (as well as a few other characters from that game). Other honorable mentions include Yu-Gi-Oh!, some Google games, Phoenotopia: Awakening and the usual Gundam. Little more variety since last time with this slightly bigger update!
I think that about wraps it up for now, I'm gonna go back to relaxing during my time off and we'll see y'all next week!
3DS Sheets: 9
Arcade Sheets: 7
Browser Games Sheets: 11
Custom / Edited Sheets: 109 (50 shown)
Dreamcast Sheets: 7
DS / DSi Sheets: 5
Game Boy / GBC Sheets: 13
Game Boy Advance Sheets: 12
Game Gear Sheets: 3
Genesis / 32X / SCD Sheets: 4
Mobile Sheets: 126 (50 shown)
NES Sheets: 2
Nintendo Switch Sheets: 1
PC / Computer Sheets: 81 (50 shown, 2 hidden)
PlayStation Sheets: 11
PlayStation 2 Sheets: 37
PSP Sheets: 17
SNES Sheets: 17 (1 hidden)