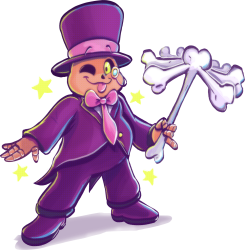 Howdy-do, and how are you, Sprities! Your friendly neighborhood revenant is back from quite the hiatus to hand-deliver y'all another plate of nearly-400 goods! Before I get into where I've been and all that, I'm just gonna dive into the interesting stuff!
Closing September off is a healthy dose of customs, including mostly Mega Man, some Sonic, Mario, and a few other bits and pieces of interesting stuff. Other stuff of note is quite a bit of Leapfrog Didj things, Doraemon mobile, Cuphead, Delta Rune Chapter 2 (which I still have to play, aaaaa), XBlaze Code: Embryo, Mario Party, and no update would be complete without some Gundam rips.
So, for anyone wondering, the reason I've been gone so long is, honestly, because I've been having a really, really rough time. My mental health kind of flunked and without going into too much detail, I ended up having to stay in the hospital for nearly a week. But the doctors changed my medicine around and now I am feeling much better, despite the occasional ups and downs and still having personal life stressors, I'm handling them quite a bit better.
Note for everyone: if you're suffering with mental health, do not keep it bottled up! Tell someone you trust, and please get some help for it. It does not show weakness; on the contrary, it shows strength that you were able to reveal what's bothering you. It will get better. I promise. You're doing great.
With all that being said, it's almost spookymonth, so we'll surely have more tricks and treats for you next time! 👀 Keep on spritin'!
3DS Sheets: 5
Arcade Sheets: 6
Browser Games Sheets: 4
Custom / Edited Sheets: 46
DS / DSi Sheets: 8
Game Boy / GBC Sheets: 8
Game Boy Advance Sheets: 3
Genesis / 32X / SCD Sheets: 5
LeapFrog Didj Sheets: 34
Master System Sheets: 2
Mobile Sheets: 42
NEC PC-9801 Sheets: 2
Neo Geo / NGCD Sheets: 1
NES Sheets: 17
Nintendo Switch Sheets: 5
PC / Computer Sheets: 116 (50 shown)
PlayStation Sheets: 4
PlayStation 2 Sheets: 31
PSP Sheets: 6
SNES Sheets: 17
Wii Sheets: 20