It's Time to Deck Those Halls

(4)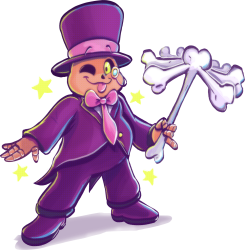 Howdy, everybuddy! It's your friendly neighborhood revenant here to bring you the last update of November! It's almost that time again, too... so let's dive in and see what we have!
Tons of customs this time around, mostly from Sonic, Mario, and Pokémon, all made by various submitters! Great work, y'all!
Moving on, there's a lot from Bubble Bobble Part 2 from
Yawackhary
, THE iDOLM@STER: Cinderella Girls (haven't seen that game in a while!), courtesy of
TeridaxXD001
, lots of Mario Party 9 brought to us by the combined efforts of
blueberrymuffin
,
larsenv
, and
SuperPupperDoggo
, some brand-spankin'-new Pokémon Scarlet/Violet rips (peruse at your own risk if you haven't beaten the game yet, like me!) by our own
Random Talking Bush
as well as
Mysticus
, the usual Fire Emblem: Three Hopes from
Dakress
, and to round off the shout-outs, a little bit of those odds and ends from our own
DogToon64
as well! Woohoo!
Alrighty, I might not see y'all for a few weeks, so happy holidays from me if not!
3DS Sheets: 3
Amstrad CPC Sheets: 3
Arcade Sheets: 9
Browser Games Sheets: 15
Custom / Edited Sheets: 40
DS / DSi Sheets: 13
Game Boy / GBC Sheets: 37
Game Boy Advance Sheets: 1
Game Gear Sheets: 3
GameCube Sheets: 4
Genesis / 32X / SCD Sheets: 9
Mobile Sheets: 34
Neo Geo / NGCD Sheets: 2
NES Sheets: 12
Nintendo Switch Sheets: 63
PC / Computer Sheets: 21
PlayStation Sheets: 2
PSP Sheets: 4
Saturn Sheets: 6
SNES Sheets: 21
Wii Sheets: 26
Wii U Sheets: 5
Xbox 360 Sheets: 1
ZX Spectrum Sheets: 10