Cuphead: Baroque Party

(1)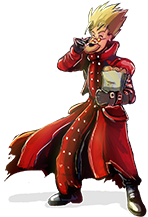 Hey everyone! I feel like it's been a while since I've been around but I'm back to bring you our first update of August! This week, we have over 400 new submissions so let's get right into them. First up, we have a bunch of new customs! I was going to point out a submitter or two but it seems there were quite a few submitting custom content this week so instead, just check out the entire section and enjoy! Next,
RavenclawNimbus
(along with help from a couple others here and there) brings us lots of Cuphead goodness while
Magma MK-II
comes in with plenty to see from Baroque. And finally, to round out this week's random selection,
blueberrymuffin
brings Mario to the Party with a bunch of new sheets but of course, that's far from all of it so be sure to have a look through everything else as well!
Before I go, I'd also like to quickly extend a warm welcome to our newest staff member, DogToon64, who will primarily be helping out on The Sounds Resource so look out for his update over there!
Amstrad CPC Sheets: 29
Arcade Sheets: 3
Browser Games Sheets: 12
Custom / Edited Sheets: 32
DS / DSi Sheets: 20
Game Boy / GBC Sheets: 2
Game Boy Advance Sheets: 11
GameCube Sheets: 8
Genesis / 32X / SCD Sheets: 5
Mobile Sheets: 92
Neo Geo / NGCD Sheets: 2
NES Sheets: 11 (2 hidden)
Nintendo Switch Sheets: 2
PC / Computer Sheets: 99
PlayStation Sheets: 39
PlayStation 2 Sheets: 7
PlayStation 3 Sheets: 2
Plug & Play Sheets: 1
SNES Sheets: 23
Wii Sheets: 24
WonderSwan / WSC Sheets: 7
Xbox 360 Sheets: 2