There's a Place Where Spriters Go ♪

(3)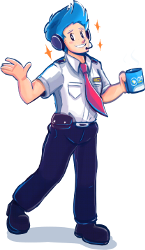 ♫ And they call it,
tSr
, where the
sprite sheets
all staaaay. ♫
Hey hey hey! Welcome back to another batch of lovely sprites, everyone! I'll be the first to point out that sprites aren't exactly my thing compared to models – doesn't hurt to mix it up at least once in a while, though! Someone wanna try to guess which song it is that I referenced?
Anyhoo, this week's submissions are servin' up some fresh Pokémon Smile, Full Metal Furies, SaGa Frontier 2, Five Nights at Freddy's 3, Super Mario, and lots of other neat games. We've even gotta small order of assets from an MacDondald videogame! I'd recommend a look at the slew of shiny new custom sheets as well;
Sushie
by Omega is my personal favourite!
Just think, "What would dodos do?" Stay fresh, and stay off the hook!