Yabba Dabba Doo!

(13)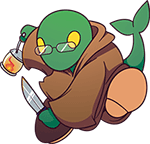 You can tell summer is in full swing, because WOW we have nearly 700 submissions! Usually this kind of number comes with a giant project dump from one source, and this time is no different. HammerGuy submitted all the courses from the Game Boy Mario Golf games. But that's not the only thing we have this week! Domo is back with some Super Robot Wars rips, SoniChaos has been cleaning up the Pokemon sections, blueberrymuffin continues to tear through the Mario Party games, Russy brings Castlevania, Cyrus Annihilator pops back in with more Marvel rips, Sei Bellissima is still hollowing out Hollow Knight, Plamz Doom found a Star Wars game I've never even heard of, and brunovalads submitted some great Flintstones rips that are really great! I get the feeling the graphics for that game might be better than the game, itself...
In the Customs section, some standouts include PetoMico's DK, Shark Guy's new Pokemon "demakes," and Omega's more obscure Mario characters. As usual, they're all fantastic and a lot of good work was put into every custom, so be sure to give them a click!
See you next week, sprite-fans!