The Way the Cookie Crumbles

(6)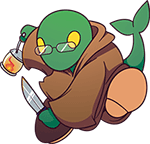 Hey sprite-fans! Welcome to April!
I hope everyone's plague is going well. Scary times out there. Please continue to be safe and isolated! I don't want anything bad happening to you all!
In today's update, three main games really got the bulk on attention. First is Pretty Soldier Sailor Moon: Another Story all ripped by myaphelion. A Japanese-exclusive Sailor Moon RPG. I used to love that show as a kid. Mars was always my favorite.
Second is CrossCode by Barack Obama, so thanks for that, Mr. President. I think you've gotten about 99% of this game up over the last couple weeks. Awesome job!
Third is, as you may have guessed from the update name, all about cookies. Cookie Run: OvenBreak by Rainbow Question Mark. This HAS to be a gatcha game because of the crazy number of variants.
Great job, all around!
As usual, make sure you check out the customs! We got our first Harry Potter custom sheet by RaguRando and I GUARANTEE you won't predict what it is.
So stay safe out here, and we'll see you all again next week!