Time to Cool it Down

(2)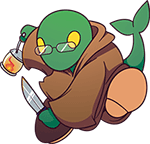 October is almost over! The chill is settling in.
I can't believe how fast this year is going. I feel like old people used to say that all the time when I was little, but... here we are.
We've got more amazing stuff for you this week! AFruitADay and Hellcio continue to submit all kinds of Arcade stuff, Kramlack brings us some Magical Vacation, DatKofGuy catches us up on Final Fantasy, and Pik and Mr. C continue to give us their amazing rips as well!
I want to give a special shout out to Askywalker's awesome custom Mario enemies this week. Amazing job!
So with Halloween creeping up on us, what is everyone going to dress up as? Let me know in the comments!
See you next time, sprite fans!