This is Halloween, Halloween, Halloween

(5)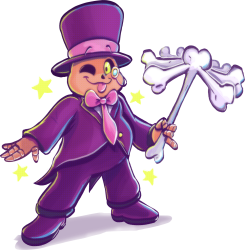 Wait, what? It's not Halloween yet? Darn, I really thought it started on the first day of October. How else can you explain my immediate desire for candy as soon as the calendar strikes 10/1? It's magic, I tell you. It's pretty much like how you want eggnog and fruitcake as soon as the world decides it's Christmas season...wait, what? I'm the only one that likes fruitcake? For shame!
Anyway, this update isn't about Christmas, that's not for another 2 months yet. At the same time, though, we bring you presents every week and month of the year... hmmmm... I'm gonna have to re-evaluate my holiday traditions, here...
While I do that though, I'll just drop this bucket/stocking/basket/whatever seasonal gift container strikes your fancy. Should I tell you what's inside, though...? Ahh, what the heck. I've been good this year, so I can afford to cheat a little. ;]
So, you can open that gift container right up and expect to find... quite the assortment, actually! It's hard to even pick out some Honorable Mentions (that's what I'm calling the shout-outs from now on, patenting it)... Maybe some Pokémon Puzzle Challenge (holy heck, did not know the original Panel de Pon characters were in the files)? Maybe a little bit of Castlevania? And... UNDERTALE?! There's still stuff being ripped from my favorite game?! San
s
ta granted me my wish. -v-
Until next time, be sure to eat lots of candy and dress up as your favorite characters! But don't eat too much candy, or you'll spoil your dinner next month!