One fresh hot update, coming up!

(3)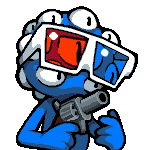 Hey everyone! I'm back for another update, with the ever-so-slightly imperfect number of 501 sheets!
Starting off this week we have a ton of submissions for
Zatch Bell!: Mamodo Battles
, by our very own Mighty Jetters herself! We also have a very healthy helping of
Fire Emblem: Heroes
by, appropriately, OurBoiRoy.
Sword Art Online: Lost Song
has also been getting a lot of love from rkraiem100 lately.
That's not all of course! We have the ever-present flow of
iDOLM@STER
submissions, and even some
Battletoads
from the Game Boy! We've also had some really cool customs lately. Be sure to hop into the Discord channel if you wanna meet some of the talented creators! Sonicfan32's Gex sheet in particular has been getting some attention on there.
By the way, fun fact: this is the 600th update on the site! The first one was
10 years ago
, all the way back in 2009; that's before I even knew about this place! Go check it out, it's a pretty insane blast to the past...
Anyway, that's it from me for now. Enjoy the update and have a great week!