Why do all of my updates have lil Animal Crossers in 'em

(3)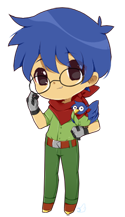 Hey it's me again - Kosheh! Posting and presenting to you another set of sheets to get excited about this weekend!
It's a pretty small update in comparison to the past updates I've posted, but a very smart person well beyond my years once told me "Size doesn't matter - it's what you do with it that counts." Obviously, they must have been talking about TSR updates, because maybe I don't have a TON of sheets this time but between the Animal Crossing, Fire Emblem Heroes, Fatal Fury Special (!!) and Octopath Traveler (!!!) sheets I've got here maybe I can make one heck of a sprite comic crossing over all my favorite Nintendos who then get punched into next week by Terry Bogard.
Oh, who am I kidding, it's 2019. People are probably too impatient to read sprite comics and watch sprite animations now on YouTube, right? Or was that a thing 20 years ago, too...?