This might be a good spot to find some sprite sheets.

(1)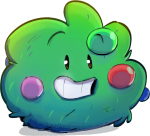 Howdy, RTB here breaking everyone out of the Groundhog Day loop we had last week (or was that two weeks ago? I've lost track of time) to bring you this week's update, now that I'm free from the grasp of Kingdom Hearts III. I must've heard that same ingredient-finding line at least a thousand times...
Anyway, now that our queue has finally been cleared, we... still have over 300 submissions this week, actually! The dedication of our community is something to behold, I tell ya what. :)
Until next time!