Back to sChOOL

(3)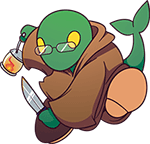 Get it? Because I'm so cool.
Hi everyone! I hope you're all excited to head back to the grind of essays and math and student parking and forgetting pens at home and changing your clothes in a locker room with everyone staring at you.
Boy, I don't miss those days.
At any rate... sprites! We have a lot! In particular, we have a lot of customs this week! Way more than usual, and that is awesome. Customs are some of my favorite things about doing this site, so be sure to check those out.
Also making an appearance are Wario Ware, Mortal Kombat, X-Men, Bomberman, and... Hitler?
Video games are weird, man.
Have a great weekend!