I'm really tired...

(3)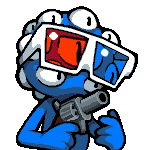 Hey folks, how's it hanging? The days I sleep in always seem to be the days I get tired earlier. Not sure what's up with that, but I'm awake enough to make this update.
Let's see what we have here this week. Some of the big chunks include the ever-present
iDOLM@STER
and
Animal Forest
, as well as
Steins;Gate 0
. I've heard it's a good anime, I should probably give it a shot...
A game called
Lionel Trains Presents: Trans-Con!
has got quite a few submissions this week too. Looking through there's an interesting mix of styles. You've got your classic point-and-click 3D renders, but things like menus and maps have quite a realistic look to them. Had to check they were even from the same game!
Of course I can never fail to point out
Metal Slug
in an update. Whether it's of a mechanical or organic unit, the detail in the sprites and the smoothness of the animations never cease to amaze me. Definitely one of my all-time favourite art styles.
Another thing that caught my eye was some custom
Paper Mario
Punies by DMZapp. I love TTYD so this was very nice to see. Really great stuff.
Lastly I want to mention that another game with a large number of submissions seems to have the longest name I've ever seen on the site:
Umineko no Naku Koro ni ~Majo to Suiri no Rondo~ / Umineko no Naku Koro ni Chiru ~Shinjitsu to Gensou no Nocturne~ (JPN)
. It is two names but even so, they're both quite long. I'd be curious whether anybody knows of any longer names on the site? Regardless, the artwork for this game is pretty top-notch too.
Well, I'm truly starting to doze off so I think I'll head to bed now. Have a good one!