Pleased to make your acquaintance!

(10)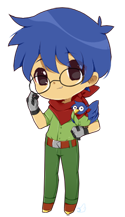 Hi - I'm
Kosheh
! Some of you might recognize me from the earlier days of TSR, but for the uninitiated I'm a user that's been in almost every role across a few variations of
the VGR Community
. Nowadays, I'm the "community moderator" - a mod who primarily works on the social side of the forums and as of late,
our Discord community
. But enough about me - let's talk about the recent update!
I'm always impressed with the breadth of assets you guys are able to rip. Notable submissions this time include content from WarioWare Gold, Overwatch (including assets of the newest hero, Hammond!), Animal Crossing/-e, Final Fantasy Brave Exvius and Record Keeper - and more!
Once again, I'm ecstatic to be a part of the site team now! I look forward to speaking with you all on our Discord and community forums! (*´ ▽ ` )ノ