VGFacts.com is here!

(0)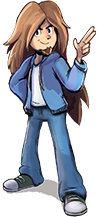 Today, I'm proud to announce our new partnership with DidYouKnowGaming - the soon to be number two source for all of your gaming trivia. Why are we putting down our new partner you might be asking? It's simple! We're officially launching our new sister site and soon to be number one source of video game trivia, VGFacts!
VGFacts is a new community driven website all about gaming, a subject that is clearly near and dear to us all. Specifically, we're focusing on bringing all of the best video game trivia together in one place. And that's where you come in. Head on over to http://www.vgfacts.com and check out the site. Sign up, post on the forums, check out our YouTube, Facebook, and Twitter accounts, and most importantly, submit some trivia!
So, what are you waiting for? Go check it out and let us know what you think!
See you over there,
Shane, Dazz, and Petie