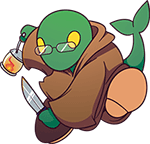 Well, we've got a great and exciting update for you today. AJ Nitro, Mageker, Nad, Croshi, Lemon, and the boys have been doing a numver on Mario and Luigi 3. We have a bunch of enemies, NPCs, objects, and a couple playable characters. If you want to avoid spoilers, stay out of that section. But those who want to see, know this: all enemy names WILL change once we get the English translation.
Josh brings us a HUUUUUUUUUGE amount of his own custom Pokemon sheets. So many, in fact, that he has his own subsection in the Pokemon customs section. Check them out, cause they're top notch.
Smithy rounds up the update with a few more Castlevania rips and assemblies. I hope you all like it!