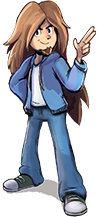 Just throwing this up here; Most of the GBA sheets in our queue. There's a fair few, really.
I've not really been around too much as of late, due to having got a decent job come up and such, but once things are properly started, I'll be able to come back and take up the old throne.
I'm currently doing some ripping for a game that's pretty cult classic; Suikoden II for the PS1. I'm not going to upload anything until it's all ripped though, since I can never tell when I have ripped everything from a character with this game.
Anyway, enjoy the update!