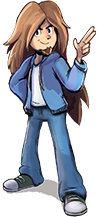 I'm being somewhat selfish, I know, but at the same time, I had no other choice during the procedure of uploading all of these sheets. These were all ripped over the last 7 days, and after my last update, I had to wait for RTB to send me another batch of sprites to upload since he's in charge of saving content at the moment while I'm on my break.
So anyway, I ripped EVERYTHING from Suikoden 2, minus NPCs and War sprites. Those were just too much for me to handle... Hahaha. This game has so many sprites for the most unimportant of characters (though still cool characters) and I think that I deserve a little pat on the back for ripping all of this.
The rest... Well, those are just some things I've been meaning to put together for a while now. I'll have more of those sometime in the future too.
Enjoy!