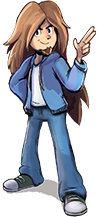 There's just some things people love to wake up to in the morning. Rays of sunshine, lollipops, and red chu-chu trains are just a few. But one thing I wasn't expecting to wake up to was the thought of having to upload a tonne of sheets for Breath of Fire II on the SNES, and a whole bunch of other bits and bobs for the Playstation to go along with it.
It was like Christmas had come early (or late) and I was going to be Santa. So to do this update, I wore my red underwear, and had children sitting my lap the entire process. What a happy mood I was in.
That was until I was arrested, explaining the delay in the update, but that part we can miss out for my auto-biography I think.
Enjoy!