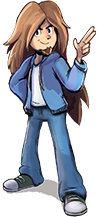 Hey folks, me again, back to attack from where it's black.
We got our pal Ranbou's submissions here, all from SD Gundam - Operation U.C.!
And that's Ranbou, not Ranbo, though one could say that he's the Ranbo of sprite rips!
All these rips of mechs and the like - I'm not sure which way is forwards and backwards! The world is spinning - I need me some grapes!