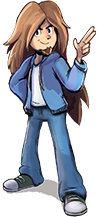 Take a look at what we have here! A whole bunch of stuff! We got things from all over the site on this update, Gameboy, GBA, Playstation. Crikey! This sure has been a busy week for tSR, lots of rips!
This week alone I could say we've had well over 600 sheets uploaded, including the Maple Story sheets RTB put up. Stunning, purely stunning. Thanks to the users who submitted all these fantastic sheets!
I'm looking into what we can do to expand this site in more ways than just more submissions, and with some of the new additions coming in the following months to come, I think that you guys will all the changes that'll be made. Keep them eyes open, as they say.