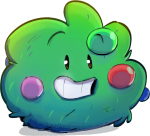 We've got lots of monkeys in today's update!
...Okay, so I lied. We've got lots of Monkey Island sheets today, as well as a few others. And it wouldn't be "Monkey Island" without monkeys, so there's a few monkey-related sheets in this submissions batch, too.
...Alright, alright, so there's not really that much MI sheets compared to everything else. So sue me.
(Now, I need to stop being so lazy...)
DS / DSi Sheets: 2
Mobile Sheets: 8
PC / Computer Sheets: 82 (50 shown)
PlayStation 2 Sheets: 1
SNES Sheets: 2